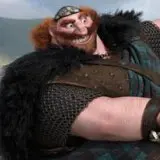 Pixar and the marketing team at Disney have acknowledged Father's Day this year in the same way they did Mother's Day: with a new celebratory promo for the upcoming Pixar feature film Brave.
The Father's Day Brave promo features a number of intimate and not-so-intimate moments between the film's star, Princess Merida, and her hulking father, King Fergus. The young princess has been close to her father since childhood and shares a unique bond with the man who will help guide her through the trials and tribulations of life.
Brave will begin its box office run this upcoming weekend and is widely expected to dethrone Madagascar 3 from its multi-weekend top spot. How well it will perform compared to past Pixar hits is up in the air as there's no telling how audiences will react to a film littered with heavy Scottish accents.
Enjoy the Pixar's Brave Father's Day promotional spot below. For comparison's sake, I've included the Mother's Day promo just below that.