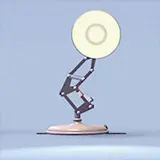 Pixar has big plans for two of their upcoming films and plans to explore new frontiers to tell their stories.
At Disney's D23 Expo this past Saturday, Pixar filmmakers and producers took the stage to unveil the first early details about their new projects. Neither film is at the point where they have a title.
The first film will explore the world of dinosaurs and arrive in theaters during the holiday season in 2013 (most likely November of that year). Up co-director Bob Peterson will direct the new film which was inspired by his childhood reaction to animatronic dinosaurs at the World's Fair in New York.
The film's premise revolves around the idea that the giant asteroid that is thought to have slammed into earth and caused the extinction of dinosaurs actually missed and the dinosaurs lived on. Pixar would be unlikely to retread dinosaurs in prehistoric times already covered by Disney's animated Dinosaurs, so I'm thinking these Pixar dinos will be living in modern times amongst humans.
Up's other director, Pete Docter, is taking the reigns of the second Pixar project slated for sometime in 2014. The film will dig deep into the human brain and attempt to comically answer the question of what makes the brain tick. The great example given was "how certain songs get stuck in your head." Docter is aiming for his film to explain that.
Before these films hit theaters, Pixar has a new IP and a followup on the way. Look for Brave in theaters next summer on June 22, 2012, followed by the Monsters Inc. prequel Monsters University on June 21, 2013.