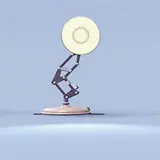 Pixar opened up their development slate for all to see at CinemaCon in Las Vegas yesterday. On tap is a new spooky Latin project from Toy Story 3 director Lee Unkrich, the dinosaurs project from Up co-director Bob Peterson, and a journey inside the mind from the other Up director Pete Docter.
The Good Dinosaur is Peterson's project and will arrive in theaters on May 30, 2014. The film's premise revolves around the idea that an asteroid never impacted earth and dinosaurs still roam the earth today. It's an original story that has all the makings of another big Pixar hit.
Lee Unkrich will explore the Mexican holiday Dia De Los Muertos in a new untitled and undated Pixar project. His Toy Story 3 producer Darla K. Anderson is also on board for what should be an equally entertaining and spooky endeavor.
The other untitled project, Pete Docter's "Inside the Mind," will take place literally within the human brain and explore "how" our seemingly simple daily decisions are made – most likely in a chaotic manner. Not much else is known about the plot, but we do know that the film is slated to be Pixar's big summer release in 2015 when it arrives on June 19 of that year.
After Brave, next up for Pixar is next summer's Monsters University. A new clip from the Monsters, Inc. prequel was shown at CinemaCon with reports agreeing the humor hit the mark. The first Monsters University is expected to be attached to Brave when it releases this June.