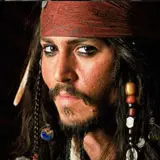 Disney has issued a press release confirming that Rob Marshall's Pirates of the Caribbean: On Stranger Tides starring Johnny Depp has indeed begun filming in Hawaii, as well as offering the first official plot synopsis.
The synopsis includes a reference to the rumored Fountain of Youth MacGuffin, "In this action-packed tale of truth, betrayal, youth and demise, Captain Jack Sparrow crosses paths with a woman from his past (Penelope Cruz), and he's not sure if it's love–or if she's a ruthless con artist who's using him to find the fabled Fountain of Youth. When she forces him aboard the Queen Anne's Revenge, the ship of the formidable pirate Blackbeard (Ian McShane), Jack finds himself on an unexpected adventure in which he doesn't know who to fear more: Blackbeard or the woman from his past."
Returning actors include Geoffrey Rush as Captain Hector Barbossa and Kevin R. McNally as Joshamee Gibbs. New characters played by Sam Claflin and Astrid Berges-Frisbey include a stalwart missionary and mermaid, respectively.
Filming is underway on the islands of Kauai and Oahu, Hawaii, with additional shots to take place in the United Kingdom and Los Angeles, California.
Pirates of the Caribbean: On Stranger Tides, the first Pirates film to be shot in Disney Digital 3D, will land in theaters on May 20, 2011.