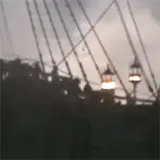 Some nighttime swashbuckling action sequences from Disney's Pirates of the Caribbean: On The Stranger Tides (aka Pirates of the Caribbean 4) were filmed from the sidelines and available for your viewing pleasure below via TrailerAddict.
This big fight takes place aboard The Queen Anne's Revenge, Blackbeard's notorious pirate ship built to-scale (more or less) for the film and dry docked in Hawaii for several months awaiting rolling cameras. Johnny Depp as Captain Jack Sparrow is no doubt in there mixing it up with Blackbeard's crew.
Pirates of the Caribbean: On Stranger Tides also stars Ian McShane, Penelope Cruz and Geoffrey Rush. It sails into theaters next summer.