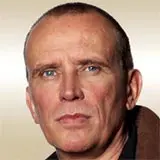 Robocop himself, Peter Weller, has joined J.J. Abrams' Star Trek sequel in an unspecified major role.
Weller is best known for playing detective Murphy aka Robocop in the first two films of that series. Last year he appeared as a vulgar spewing crooked cop in Showtime's Dexter. He has also appeared in Fringe, Mighty Aphrodite and 24.
Last week, Alice Eve joined the cast in, you guessed it, another unknown major role. Her role is believed to be a new character in the Trek cannon.
Abrams has confirmed he is pursuing Benicio del Toro to play the film's primary villain. Over the weekend, Latino Review reported that their sources confirmed del Toro will play none other than Khan.
Latino Review is usually on the ball with their scoops and don't share until they're confident it's legit. Yet, according to Total Film, Abrams has already denied the scoop, though he didn't specify whether he was denying del Toro's casting, the role of Khan, or both.
The untitled Star Trek sequel will begin production next month so clarification over the main villain's name and who will be playing him should come to light within a month's time. The film won't warp into theaters until May 17, 2013.
Source: Variety