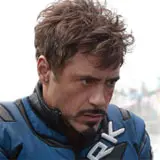 The publicity faucet at Paramount has been set to a slow trickle for Iron Man 2 over the past week with new images popping up on a seemingly daily basis.
The latest batch comes from an Iron Man 2 Comic-Con preview article at USA Today. For example, the image of Gwyneth Paltrow as Pepper Potts in a boardroom is nearly identical to yesterday's image of Scarlett Johansson as Natasha Romanoff. Robert Downey Jr. aka Tony Stark is seen on a racetrack again, only this time with car wreckage behind him. And Don Cheadle as James 'Rhodey' Rhodes is with Tony Stark in a courtroom.
If you missed all the pictures of Scarlett Johansson as Natasha / Black Widow, you can view them right here.
I encourage you head over to USA Today to read their preview article with some new quotes from the cast and insight into their character's motivations. Look for the big Iron Man 2 footage reveal to be made Saturday at Comic-Con.