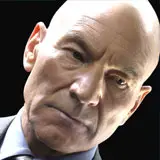 The unnatural image of a de-aged Patrick Stewart as Professor Xavier in X-Men Origins: Wolverine might be the last time we see Patrick Stewart playing the soft spoken X-Men leader.
The actor made a public appearance last weekend in Australia at OzTrek2 and directly addressed a number of rumors surrounding his upcoming slate. First up was his potential appearance in Bryan Singer's upcoming prequel film X-Men: First Class. While Stewart would love working with Sir Ian McKellen again, he does not see himself or Ian appearing in the film.
Another sequel, however, Stewart would love to put in a guest appearance. That film would be Star Trek 2 whose filmmakers, including J.J. Abrams, Stewart finds to be a "fabulously talented group of individuals."
The last rumor claims Stewart told an Australia fan that he would be returning to Australia soon to shoot a film with George Miller. Looking ahead, Miller has three upcoming films: Happy Feet 2, Mad Max 4 and The Odyssey. Stewart already ruled out Happy Feet 2 so could he possibly appear in Mad Max 4? We'll have to wait for a definitive answer on that one.
Source: Trek Movie