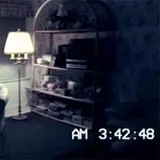 Here's a freaky clip from Paranormal Activity 3, the low budget, big box office sequel that searches out new scares when it arrives on Blu-ray and DVD on January 24.
In this clip, the camera operator makes their way through the house and eventually peers out through the shutters and blinds in the kitchen. When they look away for a moment and then look back, all the shutters and blinds are mysteriously shut.
Paranormal Activity 3 stars Christopher Nicholas Smith, Lauren Bittner, Chloe Csengery and Jessica Tyler Brown. It's directed by Henry Joost and Ariel Schulman, and will be followed up by Paranormal Activity 4 later this year.
Click here to pre-order Paranormal Activity 3 on Blu-ray and DVD combo for $21.99 at Amazon.com, 51% off the $44.99 list price.