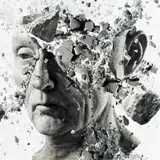 Halloween weekend 2010 saw a rematch of two contenders from the same time last year as Lionsgate unleashed the final (?) installment in the Saw franchise to go up against Paramount's second Paranormal Activity entry. With people going to parties and kids out trick or treating, Halloween is usually a dead zone for theaters. With All Hallows Eve landing on a Sunday this year, the top ten was no exception as it was down a sizable 28.5% from last weekend.
While it wasn't the non-starter that Saw VI's anemic $14.1 million was a year ago, the estimated $24.2 million opening for Saw 3D was hardly a return to the franchise's big openings. Despite the 40% bigger opening than Saw VI, the 3D ticket surcharge that accompanied the 93% of the 2,808 screens showing the new film didn't quite deliver the anticipated financial payoff. And since horror sequels tend to make the majority of their money in the first few days of release (the day-to-day drops have been in the 35% range), the final Jigsaw outing is looking to become the second lowest-grossing of the series.
Last weekend's champ, Paranormal Activity 2, dropped 59.4% percent from its genre record-setting opening weekend to an estimated $16.5 million for a ten-day total of approximately $67 million. As with Saw 3D, this horror sequel has seen most of its business up front and should be a distant memory by the middle of November. But before that happens, Paramount's chiller should finish its domestic run with approximately $85-90 million in sales.
Summit Entertainment's "Red" continues to prove a sleeper hit by holding third place for week three, easing a slight 28% for a $10.8 million haul to bring its total to approximately $59 million. If the film continues to withstand the holiday newcomers over the next few weeks, the Helen Mirren and Bruce Willis hit could close with a very healthy take near the $90 million mark.
Paramount's Jackass 3D landed in fourth place for the weekend while crossing the $100 million mark in the process. Adding $8.5 million to bring its three week total to $102 million, the movie suffered its biggest hit at the box office as business dropped a steep 60% this weekend. Despite the dive, the fall movie season's biggest hit is still on course to finishing its run with a massive $120-125 million take.
After opening with a mild $12 million, Clint Eastwood's Hereafter dropped 47% this weekend to land in fifth place. With a $6.3 million estimated take and a new total of $23 million, the film is having a tougher go at the box office than distributor Warner Brothers had expected. Given the somber tone of the film and the fact that it is aimed more for the adult audience than anyone else, it may have been a wiser move on the studio's behalf to give the movie a platform release along the lines of Eastwood's 2008's Gran Torinoor 2004's Million Dollar Baby.
Disney's Secretariat had another good weekend, off a slight 28% to land in sixth place with an estimated $5 million. The sleeper hit has now amassed $44.5 million after a month. Sony's The Social Network lost 35% of its audience and landed in seventh place with $4.7 million. The Oscar favorite's new five-week total is just shy of $80 million. Eighth and ninth place went to two Warner Brothers' films; the long-running hit The Town and the Katherine Heigl chick flick Life as We Know It. Heigl's film landed in eighth place with $4 million for a new to-date estimated total of $44 million, while Ben Affleck's crime drama stole ninth place in its seventh weekend with $1.92 million in sales and a new to-date total of $88 million.
Rounding out the top ten was the Fox Searchlight drama Conviction which expanded to 565 theaters in its third weekend of release to mediocre results. The Sam Rockwell and Hilary Swank flick averaged a mild $3,230 per screen average for $1.825 million and a to-date total of $2.3 million. With studios releasing their big awards films over the next few weeks, it will have to rely on strong word-of-mouth -and awards – in order to make a bigger box office impact.
Next weekend sees the start of the holiday movie season (remember, this is the industry that starts summer at the end of April). Dreamworks will release its Will Ferrell and Tina Fey 3D animated comedy Megamind; Warner Brothers will debut the latest from Hangover director Todd Phillips, Due Date, starring Robert Downey Jr. and Zach Galifianakis; and Lionsgate will enter the fray with the latest Tyler Perry drama For Colored Girls. Finally, Fox Searchlight will release the excellent Danny Boyle drama 127 Hours in limited release on four screens.
– Shawn Fitzgerald