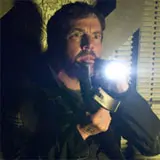 D-Box has announced the September 25 release of Overture Films' Pandorum starring Dennis Quaid, Ben Foster and Cam Gigandet will become the sixth film to be released theatrically in D-Box enabled cinemas.
In D-Box's words, the motion control technology "adds to the movie's plot and underlying themes of fear, terror and explosive action by offering realistic sensations during most of the film's action scenes."
Pandorum with D-Box will appear at the following seven theaters beginning this Friday: Cineplex Odeon Queensway Theatre in Etobicoke, Canada; Mann Chinese 6 Theatre in Los Angeles, California; Theatres at Mall of America in Bloomington, Minnesota; Galaxy at the Cannery in Las Vegas, Nevada; Galaxy Highland Theatre in Austin, Texas; UltraStar Cinemas in Surprise, Arizona; and UltraStar Apple Valley in San Bernardino, California.
D-Box equipped seating costs more than a standard ticket, much like a 3D showing carries a higher price than a traditional 2D showing. The limited D-Box seats can be hard to secure opening weekend so plan ahead if you live near one of the D-Box enabled cinemas.