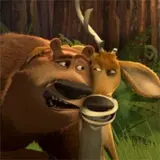 Sony Pictures Home Entertainment has announced Open Season 2, the direct-to-video sequel to the theatrical hit Open Season, has been cleared for a January 27, 2009 release on Blu-ray Disc, DVD and PSP.
Sony describes Open Season 2 as follows: After falling head over hooves in love with Giselle (Krakowski), Elliot's (McHale) road to the altar takes a slight detour when Mr. Weenie (Cody Cameron) is kidnapped by a group of pampered pets determined to return him to his owners. Boog (Epps), Elliot, McSquizzy (Connolly), Buddy and the rest of the woodland creatures launch a full-scale rescue mission for their sausage-shaped friend and soon find themselves in enemy camp: the world of the pets. Led by a toy poodle named Fifi (Glover), the pets do not plan to let Mr. Weenie go without a fight. Can a toy poodle REALLY bring down a 900-pound grizzly bear? Will Elliot ever marry Giselle? Find out in Open Season 2.
Open Season 2 on Blu-ray will include a number of supplemental features including a pair of Blu-ray exclusives.
Going WILD! With the Voice Cast of Open Season 2
How to Draw Your Favorite Characters: Boog, Elliot & Fifi
Wacky Weenie Arcade, featuring five exciting, carnival-style games for kids to enjoy

Elliot's "Go Fetch!" Frisbee Catch Game
Track That Treat – Magic Shell Game
Fix that 'Do – Doggie Glam-Up Activity
Boog's Waterslide Maze Craze – Navigate Your Way Through A Wild Waterslide
Doggie Strength Test – Ring Teat Bell!

Deleted Scenes

Forever AND Ever?
Reilly's Family Tree
Bald Spot

Save Mr. Weenie Game! – In this zany frogger-style game, Boog and Elliot must cross busy streets avoiding hunters, speeding traffic, and innocent pedestrians. (Blu-ray exclusive)
BD-Live Enabled
Open Season 2 on Blu-ray will carry an SRP of $38.96. Check back regularly for high resolution cover art, disc specs and pre-order information.