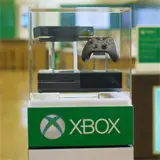 Yesterday I had the unique pleasure of getting a personal tour of the highly-anticipated Xbox One, which is due to hit store shelves at 12:01am on November 22, 2013 here in North America.
My personal tour began at my local Microsoft store here in Phoenix, Arizona, as store manager Jason Swenton gladly opened himself up to any questions that I had about the next-gen game system. I was completely honest and told Jason that I had no questions: I just wanted to play games. And that's when the fun started.
I was then handed off to Jake McCollum, a Microsoft Store Employee and "Xpert in all things Xbox." Jake handed me a controller and my demo time started off with a quick race in Forza Motorsport 5, my personal must-have game for the Xbox One. I chose my car, opting for good old American Muscle in the 1970 Mustang–even over the faster, prettier MacClaren–and I got to racing. Right off the bat, I could see and feel the difference in the controller. The individual vibrating mechanisms in the triggers and sticks gave me a new sensation while hitting turns and weaving in and out of traffic.
Jake explained that the Xbox One will eventually learn my driving patterns and use it to tailor my racing experiences as my career goes on. Also, my ghost can go out into the cloud as a Driveatar as previously revealed, along with other players' ghosts and their ghosts can come into my races so I can constantly compete against other racers–even complete strangers–while playing my game alone on my couch. Nifty.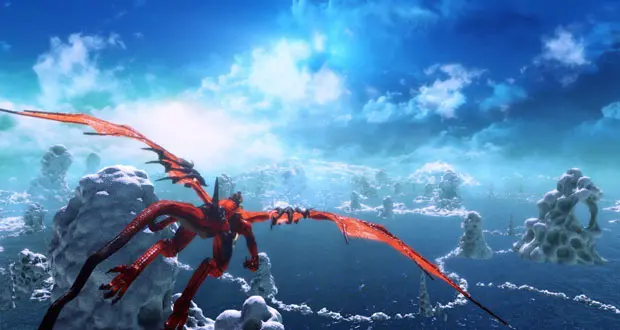 Next up was Crimson Dragon. This "spiritual successor to the SEGA classic, Panzer Dragoon, was another launch game I was interested in. The flying dragon rail-shooter was easy to control, but being on a rail was a little jarring, especially when I tried to explore the level I was flying in. I liked switching between attacks via the left trigger, while shooting with the right. The reticle was very smooth as well and the combat–fighting everything from floating eyes to full-fledged boss dragons–was intense.
I wasn't seeing next-gen graphics in my introductory Crimson Dragon mission. This prompted me to ask Jake about how the Xbox One differentiates itself, not only from the Xbox 360, but also from the just-released PS4. This led to a tour through the user interface (UI) of the system. Jake explained the snap feature, which allows gamers to suspend play to go after some info online, or maybe to play a custom soundtrack, or even record and post my gameplay online. The Xbox One allows for two games/applications to be running simultaneously, so I can stop playing Crimson Dragon and boot up, say, Forza 5, and when I'm done racing, I can slide right back into Crimson Dragon as it was in a "pause" or standby state.
After the UI tour, we booted up Killer Instinct and I challenged Jake to a brawl. I hadn't played KI in almost 20 years, but it quickly came back to me. Jake took the first round–though it was close–and the end of the fight came down to smidgens of energy remaining. I was able to best him, though I felt that maybe he let up a little there at the end. Killer Instinct was fast-paced and brutal. The controller shined here, even though my instinct (ha!) was to use the control stick, which wasn't as clean as the control pad. This was the first time that I could really get a sense of the buttons (the RB and LB and right and left triggers have been redesigned) and I was pulling off special moves and combos in no time.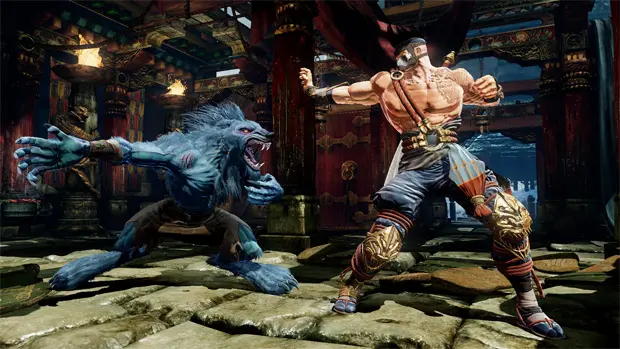 Next up was a quick look at Kinect 2.0. Jake went through the normal set up and showed me how the cone of vision is much larger and more powerful that the first version. We were in a crowded mall kiosk for this demo time, and when it came time to actually play Kinect Sports 2, I opted out and asked Jake to show me how it's done. Unfortunately, the Kinect 2.0 had problems picking up his body, and even with me well out of the cone of vision, Jake still couldn't turn right on a jet ski course.
Before my time was up I did a quick run-through on the apps portion of the new Xbox One UI. The NFL app popped up and looked to be content-filled with stats and programming from the NFL Network. I asked Jake if they were going to be showing live games, especially the Thursday Night NFL Network-only games, and he didn't have an answer (editor's note: NFL Network would only appear if it was subscribed to through your local cable or satellite service passing through Xbox One).
My demonstration ended with an invite to the public launch party there at the Microsoft store. Jake mentioned that local radio stations would be on-site and that they'd have swag and giveaways all night long, leading up to the 12:01 launch of the hot new system. I understand that these launch parties are nationwide, and I advise you to check with your store to see if they are, in-fact, hosting, as there is no better way to usher in a new console generation than with a huge party with free swag!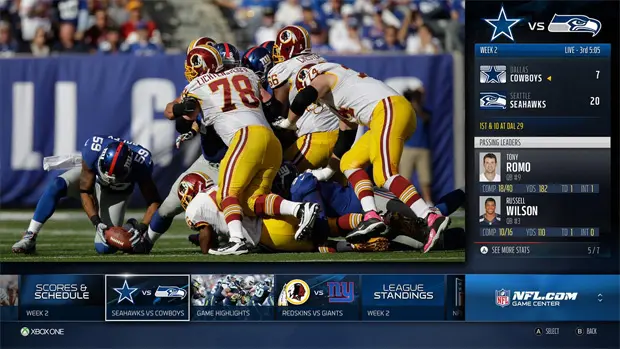 The Xbox One is a neat little system, but as with all new consoles, the true power of the system won't be fully realized or unleashed for a few months. The social interface and integrations–which is the key component to this console generation–works, and the game library will presumably get better. Titanfall is scheduled to hit in March 2014, and a new Halo game is in development.
Thank you to Jason Swenton, Jake McCollum, and Microsoft for the opportunity to check out the Xbox One early and share with you what I saw, felt and lived. Again, the Xbox One will be released at 12:01 am on November 22, 2013.