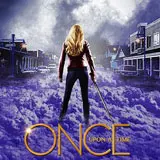 ABCs' Once Upon a Time continues to rack up strong ratings in its Sunday evening 8/7c time slot as the show works through the earlier episodes of its second season. The first season is already available to purchase on Blu-ray and DVD, and you can already pre-order Season 2 with a little added discount to boot.
Online retailer Amazon.com has begun taking pre-orders for Once Upon a Time: Season 2 on Blu-ray at a price of $55.99. That works out to 30 percent off the list price, right on par with the typical discount Amazon offers off the manufacturer suggested retail price.
What makes this early pre-order worth strongly considering is an extra promotion Amazon is running tied to this title. For a limited time, Amazon is offering a $15 instant coupon to anyone who pre-orders Once Upon a Time: Season 2 on Blu-ray. That brings the price down to $40.99 with free shipping, probably the cheapest price you're going to find anywhere.
Click here to pre-order Once Upon a Time: Season 2 on Blu-ray with the $15 coupon and free shipping at Amazon.com, while the promotion lasts.
Of course Once Upon a Time: Season 2 on Blu-ray will not ship until well into next year and the pre-order price could change between now and there. As with all Amazon pre-orders, this one is protected by Amazon's Pre-order Price Guarantee. What that means is if you pre-order today and the price drops say in January, you will get charged whatever the cheapest price Amazon had on the product when it ships. And that's before the $15 coupon is applied.
The Once Upon a Time: Season 2 Blu-ray release date and details will probably be made available next spring or early summer.