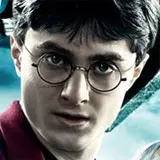 Today Warner Bros. Pictures revealed the "official" one-sheet movie poster for Harry Potter and the Half-Blood Prince over at MSN which you can check out below.
By "official" Warner must mean "final" as there have been several Half-Blood Prince posters already, each focusing on a specific character from the cast: Harry, Ron, Hermoine, Dumbledore, etc. This new poster looks like an offspring of everything before it with the aforementioned characters with the added bonus of London in the background.
Harry Potter and the Half-Blood Prince conjures its way into theaters and IMAX on July 15. Based on the trailers and clips there's little doubt it will be a huge hit.