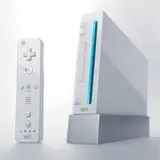 November NPD sales numbers are out and depict that some videogame sales are, in fact, impacted by the current lousy economic climate. For this year's Black Friday and big shopping season, cheaper was by far and away the most popular option.
When it comes to low-cost gaming accessible to the masses, Nintendo Wii's is the clear front runner. Their sales jumped frin 981,000 consoles moved in November 2007 to a whopping 2,040,000 million last month.
Microsoft's Xbox 360 also fared well, no doubt aided by its new friendly $199 entry-level sku. This November, 836,000 consoles sold compared to 777,000 last year.
Playstation 3, which has always brought up the rear, was the only console to see its sales totals drop from last year. It went from 466,000 in 2007 to 378,000 this year, a nearly 20% decline.
Critics are certain to use these numbers as a sinking ship flag for not only PS3 as a console but Blu-ray as a viable high-definition format. What costs more will most certainly sell less in this economy.
Don't throw in the towel on either just yet. Playstation 3's must-own software, Killzone 2 and God of War III, are both 2009 arrivals. And thanks to a sales burst by The Dark Knight, Blu-ray is beginning to strike a chord with the masses.
While Xbox 360 and Wii are clearly thriving now, we firmly believe the best for Blu-ray and PS3 is yet to come. 2009 will be a big year for both PS3 games and Blu-ray Disc movies.