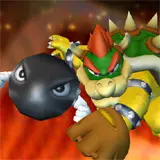 Nintendo has announced the latest Mario foray into sports, Mario Super Sluggers, is on its way to stores today for Nintendo Wii.
Mario Super Sluggers allows players to control over 40 characters from the Mario universe in addition to Mii characters in select modes. As in past Mario sports titles, each character will have signature moves that will strongly impact the outcome of a match.
As with Wii Sports, players use the Wii Remote to mimic the movements of swinging and pitching. Wii Motion Plus will not be supported.
Multiplayer modes for hitting and fielding support up to four players and are available for offline play only.
Mario Super Sluggers is currently selling for $49.79 at Amazon.com and is in stock right now (click here to purchase).