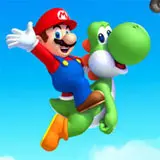 Nintendo this morning issued a press release that cements their Wii U launch games lineup with 23 titles that will be available on the console's November 18 North America release date. An additional 23 games will be available available during the launch window that runs through the end of March 2013.
As we suspected, Ubisoft is leading the Wii U launch charge with a total of six games including two of the most wanted on the console, ZombieU and Assassin's Creed 3. Activision is also well represented with four games including Skylanders Giants and Call of Duty: Black Ops II, while Nintendo will be publishing four of their own including New Super Mario Bros. U and Nintendo Land.
Games we once thought would be available at launch but have slid into the launch window include Rayman Legends, Pikmin 3 and NBA 2K 13. See below for the complete Nintendo Wii U launch games list.
November 18 Launch Day Games
Call of Duty: Black Ops II (Activision)
Skylanders Giants (Activision)
Transformers Prime (Activision)
Wipeout 3 (Activision)
Disney Epic Mickey 2: The Power of Two (Disney Interactive)
FIFA Soccer 13 (EA Sports)
Tekken Tag Tournament 2 Wii U Edition (Namco Bandai)
New Super Mario Bros. U (Nintendo)
Ninja Gaiden: Razor's Edge (Nintendo)
Nintendo Land (Nintendo)
Sing Party (Nintendo)
Sonic & All-Stars Racing Transformed (SEGA)
Warriors Orochi 3 Hyper (Tecmo Koei)
Darksiders II (THQ)
Assassin's Creed III (Ubisoft)
ESPN Sports Connection (Ubisoft)
Just Dance 4 (Ubisoft)
Rabbids Land (Ubisoft)
Your Shape: Fitness Evolved 2013 (Ubisoft)
ZombieU (Ubisoft)
Scribblenauts Unlimited (Warner Bros. Interactive)
Game Party Champions (Warner Bros. Interactive)
Batman: Arkham City Armored Edition (Warner Bros. Interactive)
November 19 – 30 Games
Chasing Aurora (Broken Rules)
Cloudberry Kingdom (Pwnee Studios)
Madden NFL 13 (EA Sports)
Trine 2: Director's Cut (Frozenbyte)
Mighty Switch Force HD (WayForward)
TANK! TANK! TANK! (Namco Bandai)
Nano Assault Neo (Shin'en)
Little Inferno (Tomorrow Corporation)
Toki Tori 2 (Two Tribes)
December 1 – March 31 Games
Funky Barn (505 Games)
NBA 2K13 (2K Sports)
007 Legends (Activision)
Cabela's Dangerous Hunts 2013 (Activision)
Rapala Pro Bass Fishing (Activision)
Rise of the Guardians: The Video Game (Pwnee Studios)
Ben 10 Omniverse (D3Publisher)
Family Party: 30 Great Games: Obstacle Arcade (D3Publisher)
Mass Effect 3 (EA)
Runner2: Future Legend of Rhythm Alien (Gaijin Games)
Game & Wario (Nintendo)
LEGO City: Undercover (Nintendo)
Pikmin 3 (Nintendo)
Wii Fit U (Nintendo)
The Wonderful 101 (Nintendo)
Aliens: Colonial Marines (SEGA)
JEOPARDY! (THQ)
Wheel of Fortune (THQ)
Marvel Avengers: Battle for Earth (Ubisoft)
Rayman Legends (Ubisoft)
Scoring a Wii U at launch is another matter. Many retailers including GameStop, Toys R Us and Best Buy have sold out of their launch day allotments. K-Mart and Amazon.com have yet to begin taking pre-orders and are looking like two of the last options available to secure a November 18 Wii U Deluxe or Basic console package.