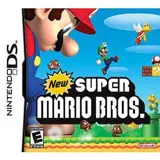 One of my favorite Nintendo DS games, New Super Mario Bros. has gotten a nice little price cut at Amazon.com.
Previously selling for around $25, Amazon has lowered (temporarily?) the price of New Super Mario Bros. for Nintendo DS (also playable on 3DS) down to $21.99. If you break it down by worlds, then you're paying around $2.75 per each of the 8 available in the game.
The new sale price has popped New Super Mario Bros. into Amazon's top 20 hourly updated bestselling video games chart. That's impressive considering all the new top tier games that have recently come out or are about to come out.
Click here to buy New Super Mario Bros. on Nintendo DS for $21.99 at Amazon.com.