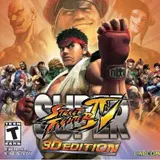 Nintendo has announced there will be a total of 18 Nintendo 3DS launch titles available on March 27, the day the hotly anticipated new Nintendo DS gaming platform arrives in stores.
A total of 5 3DS titles will be published directly by Nintendo. They include Pilotwings Resort which features flying above a tropical island in 3D; Steel Diver, a submarine game; and three versions Nintendogs + Cats (French Bulldog, Toy Poodle and Golden Retriever), the latest in the popular series.
Ubisoft is leading the third-party launch titles with four games: Asphalt 3D, Combat of Giants: Dinosaurs 3D, Rayman 3D and Tom Clancy's Ghost Recon: Shadow Wars. Other third-party launch titles include Super Street Fighter IV 3D Edition (Capcom), The Sims 3 (EA), Madden NFL Football (EA Sports), Pro Evolution Soccer 2011 3D (Konami), Lego Star Wars III: The Clone Wars (LucasArts), Ridge Racer 3D (Namco Bandai), Super Monkey Ball 3D (Sega), Bust-A-Move Universe (Square-Enix) and Samurai Warriors: Chronicles (Tecmo Koei),
Nintendo 3DS systems cost $249.99 to pre-order and come in aqua blue and black designs.
Click here to pre-order a Nintendo 3DS or any of the above mentioned games at Amazon.com.
– Dan Bradley