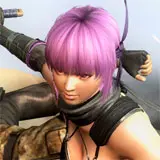 Nintendo has finalized the Wii U exclusive features for Ninja Gaiden 3: Razor's Edge that will be one of the new console's first-party launch titles on November 18. As expected they have beefed up numerous areas to make the Wii U version the one to own.
Three new weapons will be available to Ryu and new playable character Ayane as they progress through the Ninja Gaiden 3 story. The complete weapons list now includes Sword, Claws, Scythe, Dual Katana, Staff and Kusari-Gama, and Ninpo has been upped from one to three to increase its frequency of availability for attacks.
Here is the complete list of Ninja Gaiden 3: Razor's Edge Wii U exclusive features. We were not previously aware of additional playable characters, enemies health restoring, or the character-progression system previously so consider those new announcements.
Ayane as a playable character: In previous versions of the game, Ayane appeared only briefly in one cut scene. Now players can help her progress through her own exclusive chapters using a special set of weapons and Ninpo attacks.
Character-progression system: Using Karma points earned during game play, players can upgrade weapons and Ninpo, learn new moves, increase their HP level and unlock new character costumes.
Ryu and Ayane playable in co-op mode: For the first time, players can use Ryu or Ayane to represent themselves in the game's online co-op mode.
Test of Valor battle areas: Each chapter includes a hidden battle area called Test of Valor. Upon finding hidden Crystal Skulls, players will be transported to these areas to face down waves of enemies and classic NINJA GAIDEN boss characters with new moves.
Wii U GamePad Functionality: Using the Wii U GamePad, players can easily change weapons or Ninpo attacks, and also quickly reference the button inputs required for various combo attacks without ever stopping the action.
Additional Playable Characters: After the launch of the game, additional playable characters will become available as free downloadable content. More information about these characters will be revealed at a later time.
More Tenacious Enemies: The Wii U version of the game restores enemies' ability to fight when severely wounded, requiring players to stay nimble with their battle strategies.
Click here to pre-order Ninja Gaiden 3: Razor's Edge for Wii U at Amazon.com.