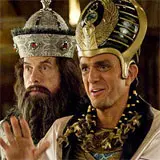 Enchanted miniature historical figures in Night at the Museum: Battle of the Smithsonian edged the killer robots of Terminator Salvation at the box office on Friday thanks in part to a 500 screen advantage.
Museum opened with $15.3 million, besting the original's $12.1 million draw back in 2006. A $70 million four-day Memorial Day weekend opening is not out of the question if Museum pulls the huge family weekend crowd it is forecast to.
Terminator Salvation held its own coming in just under Museum with $14.8 million on Friday. Add in $13.3 million from Thursday and Christian Bale and the Resistance have scrounged up $28.1 million thus far. A small victory for McG's sequel but well off the blockbuster numbers the flick will need to pay for the estimated $200 plus budget.
Dance Flick, the other newcomer, topped estimates with $3.9 million on Friday. With a little luck and positive word of mouth, the crass spoof could wrap the weekend between $15 and $20 million.