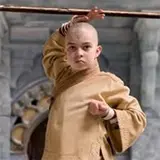 The release date for another big trailer has been confirmed while we are still reveling in this week's debut of new trailers for Iron Man 2 and Tron Legacy.
The Last Airbender producer Frank Marshall has proven to be an invaluable source for scoops on the upcoming M. Night Shyamalan film starring Noah Ringer, Jackson Rathbone and Dev Patel. Every new Last Airbender image and trailer was first announced on his Twitter feed, so it should come as no surprise that the next trailer's date comes from his fingertips.
Iron Man 2 is set for release on May 7 so that is the exact date the next and most likely last trailer for The Last Airbender will premiere. The film arrives in theaters on July 2.