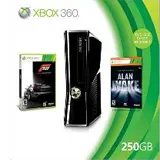 Kinect may be Microsoft's buzz word this holiday season but it isn't the only hook they'e using to put Xbox 360 consoles under Christmas trees.
Today Major Nelson announced a new Xbox 360 Holiday Bundle on his blog. The bundle will include an Xbox 360 250GB console, Forza Motorsport 3 game, and a voucher to download the full Alan Wake game via Xbox Live. The price for all of this in the US is $299.99. For comparison's sake, the premiere Kinect bundle including the exact same console and pre-selling like mad at Amazon.com is priced at $399.99.
The Xbox 360 Holiday Bundle isn't quite available yet but is expected to begin hitting retailers sometime this month.