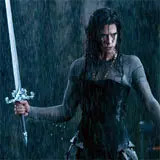 Entertainment Weekly has scored a quartet of exclusive pics from the upcoming Underworld prequel, Rise of the Lycans.
The third Underworld film is set centuries before the previous two and explores what originally created the rift between the Death Dealers and the Lycans they've enslaved.
Taking over the female lead from Kate Beckinsale is Rhona Mitra, who looked and talked a heck of a lot like Kate in Doomsday. She plays Sonja who has become the secret lover of Lycan leader Lucian played by Michael Sheen. Joining them and reprising his role as ruthless king Viltor is Bill Nighy.
Underworld: Rise of the Lycans is slated for release in January 2009. Click either of the pics below to view the other two over at EW.com.