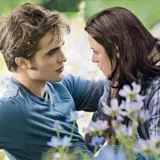 I have lost track of the number of tv spots and clips Summit Entertainment has shared for The Twilight Saga: Eclipse. Apparently there are never enough as here are a couple more to keep the Twilight marketing machine chugging along at full power.
First up is the clip 'Bedroom' with a snuggled up Robert Pattinson and Kristen Stewart discussing the issue of Bella becoming a vampire. Following that is a new trailer titled 'Legend' that plays like a cliffnotes version of the entire film.
Watch both below, and keep an eye open in the tv spot for a quote from a critic who apparently hasn't seen enough movies this year.
> >
> >