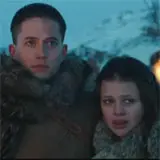 The 30-second Superbowl spot for M. Night Shyamalan's The Last Airbender was cool and full of bending action but it felt incomplete without any dialogue. Like it was cut from a larger cloth to whet our appetite before something bigger.
It turns out there was more of The Last Airbender to reveal and Yahoo! Movies today shared a new two-minute trailer with lots of additional scenes built around the Superbowl spot. And yes, there is some dialogue.
The Last Airbender stars Noah Ringer, Nicole Peltz, Jackson Rathbone, Dev Patel and Aasif Mandvi.
Head over to Yahoo! Movies to download The Last Airbender trailer in high definition.