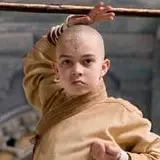 Almost exactly a month ago, producer Frank Marshall dashed the hopes of The Last Airbender fans by confirming what would be the second trailer was being delayed from December to sometime in February.
The reason behind the delay was cited as incomplete special effects at ILM. With a month passed since that news and the new month just around the corner, ILM appears to have been hard at work.
Marshall took to Twitter again for the next update on The Last Airbender, this time delivering a much needed positive message that reads, "Super Bowl Sunday will be a special day for AIRBENDER fans." To which he followed immediately afterward with, "Especially if the Eagles are in the game."
The Last Airbender shot much of its live-action footage in and around Philadelphia which ties in with Marshall's message implying the next The Last Airbender trailer will play during the Super Bowl in TV spot form. We'll find out soon enough when the Super Bowl kicks off on February 7.