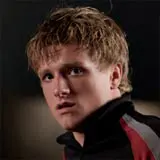 A handful of new The Hunger Games images have been trickling out from Lionsgate over the past week or so. To make sure I didn't miss any, all the most recent ones are below for you to check out.
The definite new ones include Katniss (Jennifer Lawrence) and Peeta (Josh Hutcherson) in their District 12 outfits; Cinna (Lenny Kravitz) and Haymitch (Woody Harrelson) hanging out with Peeta; and Katniss on stage with Effie Trinket (Elizabeth Banks). More Katniss and Amandla Stenberg as Rue are also included, as well as a shot of Liam Hemsworth as Gale.
The Hunger Games is just over three months away from its March 23, 2012 release. While Twilight box office success isn't expected, Lionsgate should get a nice pop from the theatrical adaptation of the first book from the popular Suzanne Collins' young adult trilogy.
Advanced tickets for The Hunger Games are scheduled to go on sale beginning Wednesday, February 22, at movietickets.com and fandango.com.