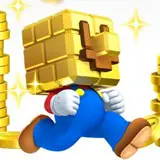 Nintendo dropped an all-new Mario adventure onto their 3DS portable gaming system in August and, as expected, sales were positively impacted by its arrival.
New Super Mario Bros. 2 hits stores on August 19 and its sales were only reported for the last five days of August per the latest NPD report. Even so, New Super Mario Bros. 2 for 3DS still managed to outsell every other game on every other platform for the month with a minimum of 240,000 units sold.
Nintendo also nabbed the second software sales spot in August with the Square Enix 3DS title Kingdom Hearts 3D. That sold 180,000 units for the months.
Through the strong sales of those two 3DS titles, Nintendo saw a 68 percent increase in software moved in August versus the previous month.
Launching alongside New Super Mario Bros. 2 was the latest iteration of 3DS, the 3DS XL. It's arrival boosted hardware sales by 36 percent over July and likely played at least a small role in the strong software sales. It's way too early to determine if the new 3DS XL is a hit or miss. The holiday shopping season will be telling.
The next big 3DS exclusive release featuring a certain mustached plumber is Paper Mario: Sticker Star, due to arrive in November.