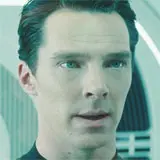 A new Star Trek Into Darkness clip has dropped that pits the films main antagonist and protagonist, Benedict Cumberbatch and Chris Pine, respectively, in a war of words against one another.
The scene seemingly takes place after Cumberbatch's John Harrison character has been captured by Starfleet following a terrorist attack. He's in the big on the Enterprise, and Kirk approaches him to reiterate the situation.
Fueled with emotion, Kirk explains to Harrison that the only he's alive is because Kirk is allowing it. Only Kirk doesn't realize that the upper hand he thinks he has is merely a mirage.
Harrison calmly responds to Kirk's posturing with a series of numbers, coordinates to a place where Kirk will find the answer to why Harrison did what he did. Not only that, but the reason Kirk will take Harrison to these coordinates is the number "72," presumably the current crew count of the Enterpise.
It would seem Harrison has planted explosives aboard Kirk's ship and he's not afraid to use them. The trailers tell us as much.
Star Trek Into Darkness is directed by J.J. Abrams and stars Chris Pine, Zachary Quinto, Zoe Saldana, Karl Urban, Simon Pegg, Anton Yelchin, John Cho, Bruce Greenwood, Benedict Cumberbatch and Peter Weller. It is set to beam into theaters and enjoy an opening weekend somewhere north of $75 million when it arrives on May 17.