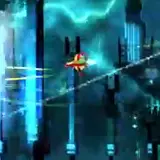 One of the things you will get for free with your 30-day PlayStation Plus free trial that comes packaged with every PS4 is the new shooter Resogun from develper Housemarque. As you'll see in the new featurette released this morning, the game is all about kicking ass and then kicking some more.
Resogun pays homage to the old school side-scrolling shooters like R-Type or more recently Super Stardust HD where gameplay has been stripped down to basic move and shoot commands. The experience is not about following a story or meeting new characters; it's about blasting as many enemies as possibly without getting yourself blown up in the process.
Housemarque has designed Resogun so novice players can pick it up and starting playing immediately on easy level with little difficulty. However, veteran and master difficulties are designed to push the patience and nerves of the most advanced gamers around.
Check out the new Resogun featurette below.