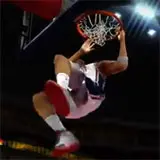 A media-fueled rivalry was born this past summer as the current Team USA Olympic basketball squad headlined by Lebron James and Kevin Durant were compared to the 1992 Michael Jordan-led "Dream Team." Both sides obviously agree they're better, but there's no way for them to ever play against one another. At least not on a real basketball court.
NBA 2K13 has both the 1992 "Dream Team" and 2012 Team USA basketball squads with the unfortunate exception of Reggie Miller. Even sans Reggie, can the old crew take out the new? NBA 2K13 aims to answer that question with a Jordan buzzer-beating attempt in the new trailer below.
2K Sports is releasing NBA 2K13 on October 2 for Xbox 360, Playstation 3, Wii, PC and PSP. A Wii U version was confirmed yesterday and will be available at a later date.
Click here to pre-order em>NBA 2K13 on the platform of your choice at Amazon.com.