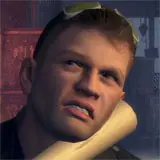 A new Mafia II trailer debuted for the audience at GamesCom last week and 2K Games has recovered enough from the event to pass along the trailer for everyone else to see.
The trailer is officially called "The Art of Persuasion" but I prefer to call it "batter up." Once you see it you'll understand why.
This is the second Mafia II trailer to drop and like the first it is full of cut-scene footage. A little in-game action would be appreciated, especially since Mafia II was recently pushed back into 2010.
Check out the age-gated trailer for Mafia II below, coming to Xbox 360, PS3 and the PC.