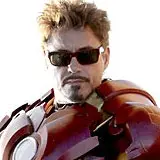 A new behind-the-scenes image from Marvel's Iron Man 2 has come online via SpiderMedia.ru offering another look at Tony Stark's office.
The image features Robert Downey Jr. as Stark, Don Cheadle as Jim Rhodes and Jon Favreau as their trusted director. An open box on the desk in front of them may or may not be important to the scene but it is hard to tell because only Cheadle appears fixated on it (or he just happens to be looking down when the pic was snapped.)
Right now Iron Man 2 is deep into post production with Favreau working on pulling together the score. The May 7 release date is now less than three months away.
Click the image to enlarge.