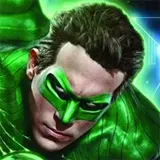 The gang over at Daily Blam have come across a quartet of new posters that feature artwork of the movie versions of characters from The Green Lantern.
The posters are for NECA and aside from another shot of Ryan Reynolds as Hal Jordan, they offer a better look at some of the Lantern Corps. members that patrol and protect different planetary sectors. Expect to see all these guys have at least cameos in the upcoming film.
As for the poster designs, well, they leave much to be desired. But something Green Lantern is better than nothing as we wait in this lull in anticipation of the next theatrical trailer.