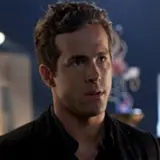 A new unexciting image from Warner Bros. The Green Lantern movie is online thanks to French website Cinema Teaser.
The image is a nighttime shot at what appears to be a gala taking place in front of the Ferris Aircraft airfield. Peter Sarsgaard as Hector Hammond is walking alongside Ryan Reynolds as Hal Jordan discussing who knows what over some complimentary drinks. Sneaking into the frame on the left as the third wheel is Tim Robbins as Senator Hammond.
There's a quick scene in The Green Lantern trailer where a helicopter crashes into the front grounds of the Ferris Aircraft airfield at night. If this scene takes place the same evening as this gala, which is clearly before Hector Hammond's head goes bulbous, then who brings down the helicopter?
The Green Lantern also stars Blake Lively, Mark Strong, Angela Bassett and Temuera Morrison, and will be in theaters in 2D and 3D on June 17.