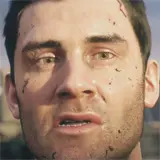 Warner Bros. Interactive will be showcasing Techland's new zombie survival game Dying Light at E3 next week. To get the party started a little early, a new cinematic trailer was released this morning that punctuates the game's objectives.
In the game and the trailer, the purpose is to survive a zombie apocalypse by free running through a city and collecting rations during the day for survival and weapon crafting. At night, the zombies become more aggressive and difficult to run from, so grabbing all the supplies during the day is imperative to seeing the next sunrise.
There's a little tinge of a parkour feel to the trailer as the antagonist and his pals sprint away from zombies, jumping across rooftops and using any means necessary not to be caught and bitten/eaten. Hopefully we will see some actual gameplay at E3 next week that will tell us how free flowing the running and jumping mechanics are.
As The Walking Dead has taught us, sometimes the worst enemy in a zombie apocalypse are your fellow survivors. The conclusion of this trailer drives that point home with a thud.
Dying Light is set for release in 2014 for Xbox 360, Xbox One, PlayStation 3, and PlayStation 4.