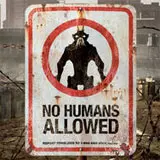 A new poster has dropped for Neill Blomkamp's District 9 that combines the iconic imagery of a massive space ship hovering over South Africa with the "No Humans Allowed" sign seen on the first poster.
Yahoo! Movies debuted the new poster and added that they will debut the next trailer this Wednesday. Sony will roll out that same trailer into theaters this Friday attached to Bruno of all films where many moviegoers will learn of the alien refugee film for the first time.
Thirty years ago, aliens made first contact with Earth. Humans waited for the hostile attack, or the giant advances in technology. Neither came. Instead, the aliens were refugees, the last survivors of their home world. The creatures were set up in a makeshift home in South Africa's District 9 as the world's nations argued over what to do with them.
The R-rated District 9, presented by Peter Jackson and the current frontrunner for the Cloverfield sleeper hit of the year award, lands on August 14.