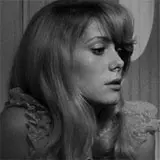 The Apollo-mission documentary For All Mankind and Roman Polanski's classic horror flick Repulsion have been given a green light to make their first Blu-ray Disc appearance in July as part of the Criterion Collection.
For All Mankind will exit the gates first and be available to take home starting July 14. Repulsion will arrive two weeks later on July 28. Both films will feature a new, restored digital high-definition transfer.
Al Reinert's 1989 For All Mankind is a culmination of imagery and verbal storytelling from the twenty-four men whom have landed on the moon. It will be presented in its original 1.33:1 aspect ratio in 1080p video and 5.1 DTS-HD Master Audio on Blu-ray Disc.
Repulsion is a 1965 psychological horror thriller Roman Polanski shot early in his career. Expect a 1.85:1 1080p transfer and lossless monaural audio.
Bonus features for each release are as follows:
For All Mankind
New, restored high-definition digital transfer, supervised and approved by producer-director Al Reinert
Audio commentary featuring Reinert and Apollo 17 commander Eugene A. Cernan, the last man to set foot on the moon
An Accidental Gift: The Making of "For All Mankind," a new documentary featuring interviews with Reinert, Apollo 12 and Skylab astronaut Alan Bean, and NASA archive specialists Don Pickard, Mike Gentry, Morris Williams, and Chuck Welch
On Camera, a collection of excerpted on-screen interviews with fifteen of the Apollo astronauts
New video program about Bean's artwork, accompanied by a gallery of his paintings
NASA audio highlights and liftoff footage
Optional on-screen identification of astronauts and mission control specialists
PLUS: A booklet featuring essays by film critic Terrence Rafferty and Reinert
Repulsion
New, restored high-definition digital transfer
Audio commentary featuring director Roman Polanski and actress Catherine Deneuve
A British Horror Film (2003), a documentary on the making of Repulsion, featuring interviews with Polanski, producer Gene Gutowski, and cinematographer Gil Taylor
A 1964 television documentary filmed on the set of Repulsion, featuring rare footage of Polanski and Deneuve at work
Theatrical trailer
PLUS: A booklet featuring an essay by film scholar and curator Bill Horrigan
Retail pricing for Repulsion and For All Mankind on Blu-ray has been set at $39.95. Amazon.com pre-order information will be passed along as soon as it is made available.