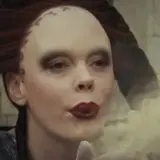 Our first real look at Marcus Nispel's take on Conan the Barbarian has arrived in the form of the first full-length trailer. If you can toss aside the fact that Jason Momoa plays a similar loincloth-clad barbaric character in HBO's 'Game of Thrones,' this new take on the Cimmerian's quest to avenge the murder of his father doesn't look half bad.
The new Conan will have to face off against Avatar's Stephen Lang as Khalar Zym, the murderer Conan seeks out, and a villainous witch played by Rose McGowan. It looks like he'll also tussle with at least one CGI beast in the form of a sea creature with numerous massive tentacles, though it's hard to tell exactly what the beast is.
No one can fill the shoes of Arnold Schwarzenegger and it will be hard to watch this film without Basil Poledouri's iconic Conan score accompanying the barbarian's exploits. The action, seduction and R-rated barbarian attitude the trailer delivers has piqued my interest just enough for me to give Momoa as Conan a chance.
Conan the Barbarian slams into theaters on August 19 in 2D and 3D versions.