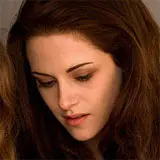 Kristen Stewart and her half-vampire child Renesmee share a tender moment in a new still from Summit Entertainment's The Twilight Saga: Breaking Dawn Part 2.
The image features newly turned vampire Bella (Stewart) showing an old watch to her rapidly aging daughter, Renesmee (Mackenzie Foy). The birth of Renesmee to Bella and Edward Cullen (Robert Pattinson) will trigger the events that lead to a final showdown that pits the Cullens and their supporters against the powerful and ancient Volturi vampire coven.
The Twilight Saga: Breaking Dawn Part 2 starring Robert Pattinson, Kristen Stewart and Taylor Lautner is directed by Bill Condon and being readied for its November 16, 2012 release in theaters everywhere.
Source: EW