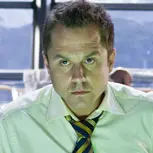 With the countdown clock under 12 hours until the first trailer for James Cameron's Avatar is released, Twentieth Century Fox has disseminated a handful of new pictures introducing several firsts.
Revealed for the first time are Sigourney Weaver as Dr. Grace Augustine, Michelle Rodriguez, Giovanni Ribisi and Stephen Lang. Star Sam Worthington makes another appearance as Jake Sully and should be featured prominently in the trailer.
Though I've said this numerous times it bears repeating. The first trailer for James Cameron's Avatar debuts exclusively on Apple Trailers tomorrow at 10am EST / 7am PST. Till then these new pics (via First Showing) should hold you over. Enjoy!