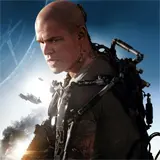 Neill Blomkamp is back in the politically charged Sci-fi genre with Elysium starring Matt Damon, Jodie Foster, Sharlto Copley, Alica Braga and Diego Luna. Expectations are fairly high for Sony and Blomkamp after District 9, Blomkamp's breakout R-rated Sci-fi film, far exceeded expectations back in 2009.
So far Elysium is off to a respectable start at the box office but nothing to stand up and cheer about. It earned $1.8 million from Thursday midnight showings and is tracking to wrap its first weekend somewhere in the range of $30 to $35 million. That range could climb if moviegoers love what they see and positive word-of-mouth drives additional business.
Though Elysium should win the weekend, it will be a tight finish atop the box office leaderboard with the comedy We're The Millers and Fox's sequel Percy Jackson: Sea of Monsters each getting their first weekend screen time.
It does look like Elysium will surpass the horrific $27 million opening put forth by Sony's After Earth starring Will and Jaden Smith. That film opened to $1 million from midnight openings so clearly there's more interest in Elysium thus far, as there should be.
Sony has already teamed with Amazon.com to offer early Blu-ray and DVD pre-orders for Elysium. Word hasn't started to spread about the Elysium pre-order opportunity as of yet, so it will be interesting to see how high the Blu-ray version will climb up Amazon's sales charts as the weekend wears on.
Click here to pre-order Elysium on Blu-ray and DVD combo for a discounted price at Amazon.com.