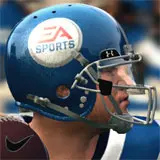 EA Sports has announced NCAA Football 10 (or NCAA Football 2010 if going by years) has arrived in North America stores for PS3, Xbox 360, PS2 and PSP.
All 120 Football Bowl Subdivision schools are included in the game offering extensive rosters, player ratings and team rankings, in addition to school mascots, cheerleaders and more.
Also new this year is TeamBuilder allowing you to build a team from scratch and share it with the world. You will be able to customize and build uniforms, teams, rosters, and fields, for starters.
Taking a page from Sony sports' titles is another new mode, Road to Glory, which is exclusive to PS3 and Xbox 360. It features television sports reporter Erin Andrews who follows your collegiate career from beginning to end as you hit milestones along the way.
Shop for NCAA Football 10 at a discounted price on the platform of your choice at Amazon.com.