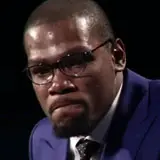 There's a new NBA 2K15 that has absolutely nothing to do with the upcoming game. You wouldn't know that unless you read the fine print, and thankfully we did.
The NBA 2K15 "Most Valuable Players" trailer spotlights Kevin Durant and includes numerous gameplay clips strewn throughout it. The clips are actually from NBA 2K14 so don't get too excited that a first glimpse into the next game awaits.
Technically the trailer does have something to do with NBA 2K15 as it ends by promoting a pre-order incentive for the game: the KD MVP Bonus Pack. This pack comes with 5,000 in virtual currency, a Kevin Durant Throwback MyTeam Card, Two MyTeam Card Packs, and MyPlayer leg sleeves inspired by Durant.
The KD MVP Bonus Pack is absolutely free for anyone who pre-orders NBA 2K15 for Xbox 360, Xbox One, PlayStation 4, PlayStation 3 or Windows PC.
Pre-order NBA 2K15 for the platform of your choice at Amazon, with free shipping. The game arrives in stores on October 7.