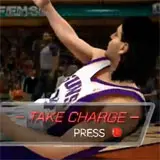 Think you got what it takes to master NBA 2K13? Winning by playing as the Lakers or Heat is one thing. Winning as the Wizards by mastering the dizzying array of moves at your disposable is another.
2K Sports has offered up an early look at some of the NBA 2K13 controls in a nifty new trailer that I'd love other publishers to copy. There's instructions on executing the basic stuff like shoot, pass and take a charge, and the more complex moves utilizing the right analog stick and shot button combinations.
Facing up a defender gets a lot more fun in NBA 2K13 with the addition of control-stick moves. Using the right analog stick you will be able to spin, stutter step, crossover, behind-the-back dribble, hesitation, and step back to either get him to jump to drive around or freeze him to take an open jumper.
Beyond the basic shot button nis the hot step layup, rip over jumper, step back jumper, snatch back jumper, euro step, spin layup, and spin dunk. Combine these moves with the control-stick moves and you're memorizing as many button combinations as a new Dead or Alive game.
NBA 2K13 dribbles into stores on October 2 for Xbox 360, Playstation 3, Wii, PC, and PSP. A Wii U version will be available on that console's November 18, 2012 launch date.