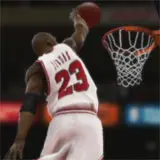 NBA 2K11 will offer a new way to "Be Like Mike" with the introduction of the Jordan Challenge, a new mode that will appear exclusively in NBA 2K11.
Until now we had assumed Jordan would be a playable character in NBA 2K11 and not just a cover athlete. The Jordan Challenge confirms he will not only be playable, but you'll be able to relive Jordan's most memorable moments to see if you can pull off the same results. Some of the challenges include scoring 69 points against the Cavs in March of 1990; battling back from the flu to defeat the Jazz in Game 6 of the 1997 finals; and reliving Jordan's last game wearing a Bulls uniform on June 14, 1998.
2K Games also confirms you'll be able to play as the classic Jordan Bulls teams from '85-'86, '89-'90, '90-'91, '94-'95, '95-'96, '96-'97, and '97-'98. Jason Argent, vice president of marketing for 2K Sports, promises even more uses for Jordan in the game that have yet to be revealed.
Check out the short but extremely sweet new Jordan teaser trailer for NBA 2K 11 below. Pre-Order NBA 2K11 on Xbox 360 or PS3 at a discounted price from Amazon.com.
> >