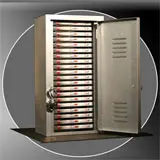 This year mark's the 10th entry in the NBA 2K series which in turn will bring about an anniversary edition set with extra trimmings.
The NBA 2K10: Anniversary Edition contents will be packed into a numbered limited edition game locker designed to store up to 20 games secured by a padlock, the NBA 2K10 game; 3″ Figurine of Kobe Bryant by McFarlane Toys; 16″ x 36″ Kobe Bryant poster; and access to the Gold Room, the NBA 2K10 VIP online lobby.
Of the 30,000 total sets being produced, 10 will include a chase autographed Kobe Bryant fine-art print, designed by Shepard Fairey's Studio Number One.
NBA 2K10: Anniversary Edition will be available on October 6 for Xbox 360 and Playstation 3. It will cost you $99.99 or $40 more than the standard edition.
Click the image below to enlarge and get a better look at the set.