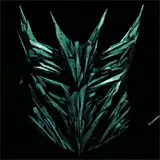 MTV continues their rash of exclusive movie media in hopes of drawing you into the MTV Movie Awards tomorrow with the first official still of The Fallen from Transformers: Revenge of the Fallen.
In chatting with MTV, Shia LaBeouf discussed The Fallen openly for the first time confirming much of what is already known about the character's origins and allegiance. Shia does hint at how The Fallen will act and fight in the film, something we've yet to see outside of one split-second teleportation shot in the trailer.
"The Fallen, his transportation method is really unlike any other robot's transportation method. The way he fights is also very different. It's spectacular, visually stunning, really incredible."
Shia also confirms what Michael Bay and scribes Robert Orci and Alex Kurtzman have been saying about Revenge of the Fallen's tone.
"I think this is a darker one. The dark moments are darker. … There's more at stake. You've got more humans getting injured, and there's more death."
Accompanying the interview with Shia is this first clean look at The Fallen in his movie form which would have been more spectacular had we not seen him already in books, statues and toys. Click to enlarge.